Description de Shadow of the Tomb Raider: Definitive Edition
Acheter Shadow of the Tomb Raider: Definitive Edition en clé Steam chez Gamesplanet.com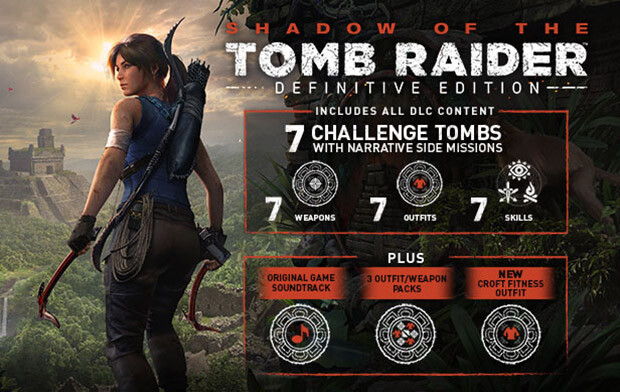 Prenez part au moment décisif où Lara Croft devient pilleuse de tombeaux. Dans Shadow of the Tomb Raider, Lara va devoir surmonter les dangers de la jungle, explorer de terrifiants tombeaux et s'accrocher pour survivre. En jouant contre la montre pour sauver le monde d'une apocalypse maya, Lara sera vouée à devenir la plus célèbre des pilleuses de tombeaux.
CARACTÉRISTIQUES
Survivez et évoluez dans l'endroit le plus dangereux de la planète : pour rester en vie, devenez experte d'une jungle sans merci. Partez à la découverte de milieux sous-marins regorgeant de crevasses et de tunnels.
Ne faites qu'un avec la jungle : désarmée et seule contre tous, Lara va devoir utiliser la jungle à son avantage. Comme le jaguar, frappez sans prévenir et disparaissez, utilisez la boue comme camouflage et insufflez la peur à vos ennemis pour semer le chao.
Explorez de mystérieux tombeaux : s'étendant aussi bien en hauteur qu'en largeur, les tombeaux sont désormais plus terrifiants que jamais, et une fois à l'intérieur, vous découvrirez qu'ils regorgent de casse-têtes mortels.
Plongez au cœur de l'Histoire : découvrez une cité perdue et parcourez le plus grand espace jamais conçu pour un jeu de la série.